Gryphon were formed in 1971 and had a style which made them unique on the UK rock scene of the early 70s, with their Crumhorn solos making a refreshing change from the usual guitar sound of the day.
By 1975, they had joined Yes on a successful tour of the USA and continued to develop their distinct sound, incorporating elements of medieval music, progressive rock, folk and jazz.
Over 30 years later, they are now fondly remembered as one of the most interesting British bands of the Progressive Rock era.
This album was compiled with full assistance from the band and features their two BBC Radio 1 sessions, recorded in 1972 & 1974. Also included here is their single, 'Glastonbury Carol', which was originally commissioned for the closing titles of the film, 'Glastonbury Fayre'. The master tapes to this track had been missing for the past 30 years and were only unearthed recently.
The accompanying 8 page booklet features liner notes by Gryphon's Brian Gulland, plus rare photographs from the band's own archive.
HUX041
---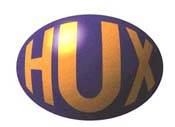 ---
Also available on Hux Records:
Gryphon - About As Curious As It Can Be