Gryphon are fondly remembered as one of the most unique and interesting British bands of the Progressive Rock era.
The five albums they produced between 1973 and 1977 showed their evolution from an all-acoustic mediaeval music quartet to a progressive pop band.
This unique blend of mediaeval music and prog rock can be heard to wonderful effect on this new album. The CD features two previously unreleased BBC concerts, recorded in 1974 and 1975.
The booklet includes many rare photographs and archive material with liner notes by Gryphon guitarist Graeme Taylor.
HUX027
---
"I don't want to be arsey - we didn't know what we were doing - there was no preconception of category or style; we just did what we pleased" Graeme Taylor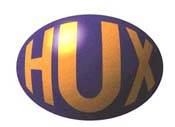 ---
Also available on Hux Records - Gryphon - Glastonbury Carol