This CD is the first of two volumes which will include every available recording from the BBC Radio 1 sessions.
Caravan are a unique band whose intricate and melodic progressive rock spans three decades. The Hux releases cover the period 1970 to 1977 when they recorded over a dozen sessions.
The first volume includes an 8 page booklet with comprehensive liner notes and band photographs, full recording details and a contribution from Pye Hastings.
"...there are delightful melodies aplenty for those prepared to fish for them" ("Mojo", May 1998)
HUX002
---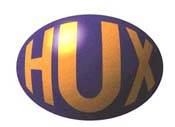 ---
Also available on Hux Records: Caravan - Ether Way