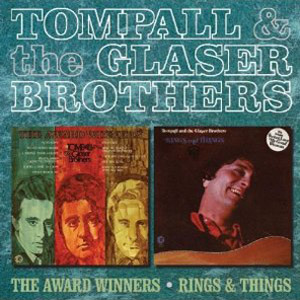 As one of country music's top vocal groups of the 1960s and early 1970s, Tompall And The Glaser Brothers were true mavericks and formed part of the so-called 'Outlaw' scene, along with Waylon Jennings and Willie Nelson.

The Tompalls were heavily championed by Johnny Cash and Marty Robbins and sang harmonies on Robbins' epic 'Gunfighter Ballads' LPs.

Their hallmark sound was a masterpiece of country-pop production, possessing a rich blend of folk storytelling, country melody and superb three-part harmonies.

Their two classic albums, 'The Award Winners' and 'Rings And Things', were originally released in 1971 & 1972. They have now been digitally re-mastered from the original production tapes and are now reissued here together on CD for the first time.

The accompanying 16 page booklet includes photos, extensive liner notes and full lyrics to every featured track.

HUX129
---