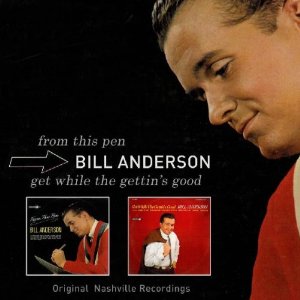 Bill Anderson is one of the most remarkable artists in country music history.
In the 1960s, he scored nineteen top ten chart entries which included five number one singles, most of which were Anderson originals. Four of these number ones also featured on the American pop charts, notably Anderson's signature song 'Still' (featured here) which peaked at 8 on the Hot 100.

Particularly noted for his hit songwriting, almost every song on this CD was a chart entry either for Anderson or another act. The opening track, 'Saginaw, Michigan', was a #1 hit for country icon Lefty Frizzell.

Anderson has had his songs successfully covered by countless artists, including Bob Dylan, Aretha Franklin, Jim Reeves, Connie Smith and, perhaps surprisingly, Ken Dodd ('Happiness').

These two LPs, originally released in 1965 & '67, are now reissued here together on CD for the first time. The accompanying booklet includes extensive liner notes, photos and full lyrics to every track.

HUX130
---