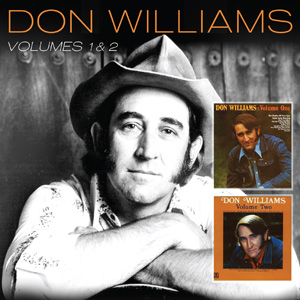 Don Williams is one of the most original and gifted talents in the annals of American country music. During the 1970s, throughout the 1980s, and into the early 1990s, Williams had one of the longest hit streaks ever in country music, including 17 No.1s, and 28 others in the top 10.

For over twenty years, Don Williams was a near fixture on the American country charts, with such songs as You're My Best Friend, Some Broken Hearts Never Mend, Tulsa Time, Good Ole Boys Like Me and the pop-crossover I Believe In You.

But the real starting point of the Don Williams legend was the creation of these two solo albums in 1972-1973.

Now digitally remastered, these two LPs are reissued here on one CD. The accompanying 12 page booklet includes photos, extensive liner notes and full lyrics to every featured track.

It is Williams' ability to write, perform and record songs which have a universal appeal that has made him such a true international star. And in 2010 he was deservedly inducted into the Country Music Hall of Fame. Several of today's Nashville newcomers, such as Josh Turner, Brad Paisley, and Alan Jackson, have all cited Don Williams as being a big influence on their own music.


HUX128
---