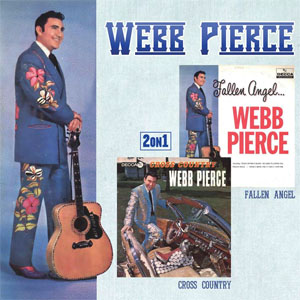 Webb Pierce was one of the most popular honky tonk vocalists of the 1950s, racking up more number 1 hits than similar artists like Hank Williams, Eddy Arnold, Lefty Frizzell and Ernest Tubb.

In the early '50s, every single he released hit the Top 10, with a total of ten reaching the number 1 spot. In fact, Webb's career stands as one of the most successful in the history of country music.

Now reissued on CD for the first time, these two LPs were originally released in the early 1960s, when Pierce was a potent chart force in country music. Included here is 'Drifting Texas Sands', which Bob Dylan selected for the 'Texas' theme of his radio show.

The accompanying booklet includes photographs, liner notes and full lyrics to every featured track. CD digitally remastered by Ron Geesin.

HUX126
---