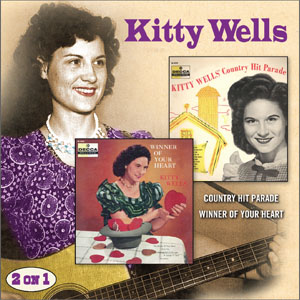 Kitty Wells broke down the doors for female country singers, paving the way for artists like Patsy Cline, Tammy Wynette and Loretta Lynn. After a string of hits from the 1950s to the early 1970s, earning her the title 'Queen of Country Music', Kitty Wells was inducted into the Country Music Hall of Fame in 1974. She later won a Grammy Lifetime Achievement Award, in 1991.

This '2on1' compilation combines Kitty's first two Decca LPs, originally released in 1956 & 1957 and now reissued on CD together for the first time. Featured here are eight top 10 country hit singles, including the classic, 'It Wasn't God Who Made Honky Tonk Angels'.

The accompanying booklet includes photographs, liner notes and full lyrics to every featured track. CD digitally remastered by Ron Geesin.
This timely reissue coincides with the release of Laura Cantrell's new album of Kitty Wells cover versions, 'Kitty Wells Dresses: Songs of the Queen of Country Music'
HUX125
---