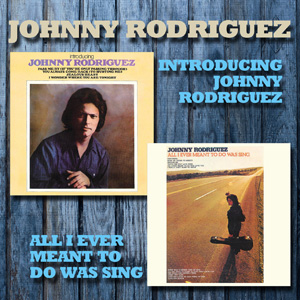 In the 1970s, Johnny Rodriguez brought a sudden and unexpected exotic Hispanic dash and sexiness to country music. Rodriguez would introduce whole verses sung completely in Spanish to his records, to a completely unprepared yet delighted country music audience.

Rodriguez was discovered by Tom T Hall in 1971. Hall was looking for a replacement guitarist for his road band The Storytellers, and gave Rodriguez the job, as well as his own solo spot. Eventually Rodriguez' success began to eclipse that of Tom T Hall's.

In 1972 Johnny Rodriguez debuted on the country chart with the superlative 'Pass Me By (If You're Only Passing Through)' (featured here), making him the first Hispanic artist to make Billboard's top 40 country listings. The single climbed into the Top Ten and turned out to be the first of 14 consecutive Rodriguez singles to do so. His next two (both included on this Hux CD), 'Ridin' My Thumb to Mexico' and 'You Always Come Back (To Hurting Me)', both hit number one.

'You Always Come Back (To Hurting Me)' - also his first foray on to the Billboard pop charts - was a Rodriguez co-write with his boss and mentor Tom T Hall.

Rodriguez' debut album, 'Introducing Johnny Rodriguez', was released in 1973. This was quickly followed in the same year by 'All I Ever Meant To Do Was Sing'. Both titles have now been digitally re-mastered and are reissued on CD now for the first time.

The accompanying 12 page booklet includes extensive liner notes, photographs, and full lyrics to every featured track.

HUX118
---