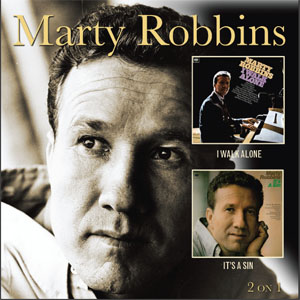 Marty Robbins was a consummate all-round entertainer. Cowboy singer, rock'n'roller, pop balladeer; he featured elements of bluegrass, Mexican, Hawaiian, Caribbean, jazzy pop standards and country tearjerkers into his varied repertoire. A prolific songwriter, he was one of country music's first successful album artists and maintained a prolific presence in this area.

In 1959, he became the first country music star to be awarded a Grammy, for his classic country hit 'El Paso', and the success of this song established Robbins once and for all.
In 1970, The Academy Of Country Music voted him their 'Man Of The Decade'.

In 1982, just two months before he died, Marty Robbins was inducted into the Country Music Hall of Fame. He was a huge favourite of rockers from the Grateful Dead to the Clash, and Elvis Presley made Marty's You Gave Me A Mountain a 1970s standard. In 2006 The Who's Endless Wire album included the song, God Speaks, of Marty Robbins. Merle Haggard has often talked of his wish to record his own tribute album to Marty Robbins.

The two LPs featured here were originally released on the Columbia label in 1968 & 1969. The title song, I Walk Alone became Marty's 13th number one country hit and led to him recording his follow up album in the same style, and again featuring him playing piano.

These two original LPs have now been digitally re-mastered from the original production tapes and are reissued on CD here for the first time. The accompanying 12 page booklet includes extensive liner notes by Maverick magazine editor Alan Cackett, plus full lyrics to all of the featured tracks.
HUX116
---