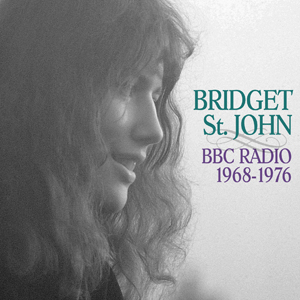 Bridget St. John was one of the first artists to be signed to John Peelís Dandelion label in 1969.
She recorded 3 albums there before she was signed to Chrysalis Records in 1974. All of those original records have recently been reissued on CD, to wide acclaim.

Throughout the late 1960s and early 1970s, Bridget made many unique recordings for BBC Radio, mostly for John Peel. None of those recordings have ever been released on CD until now.

Compiled by Bridget herself, this double CD features the best of her BBC radio concerts and sessions, including her very first Peel session, recorded in 1968. Several of these songs are released here for the first time.

This double CD set is packaged in a lavish full colour digipack with an accompanying 20 page colour booklet featuring extensive liner notes, an interview with Bridget, plus several rare photographs from Bridgetís own archive.

The tracks are a mixture of solo and band recordings, and three songs (disc 2, 14-16) are duets with Kevin Ayers. These CDs have been digitally re-mastered by Ron Geesin (who also produced Bridgetís second Dandelion LP in 1971).

HUX114
---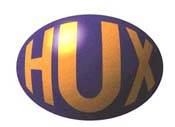 ---
Track Listing:
CD1
1. I Don't Know If I Can Take It
2. Some Kind Of Beautiful
3. Jumblequeen
4. Fly High
5. Sparrowpit
6. Want To Be With You
7. Curious And Woolly
8. Head And Heart
9. Long Long Time
10. Come Up And See Me Sometime
11. Catch A Falling Star
12. Love Lie Easy
13. The River
14. Song To Keep You Company
15. Night In The City
16. Lazarus
17. Curl Your Toes
18. Thank You For
CD2
1. Sparrowpit
2. Nancy Alice
3. Plain And Pearl
4.Make Me Whole
5. She Used To Play Harmonium
6.Crazy, Have You Eton
7. Peel 'Sleeping' anecdote
8. Bumper To Bumper
9. Leaves Of Lime
10. City Crazy
11. The Pebble And The Man
12. Back To Stay
13. Song For The Laird Of Connuaght Hall Part 2
14. Jolie Madame
15. The Spider And The Fly
16. The Oyster And The Flying Fish
17. To Be Without A Hitch
18. Ask Me No Questions
19. Many Happy Returns
20. Hello Again (Of Course)
21. Rochefort
22. Lizard Long Tongue Boy
23. The Present Song/Pig & Peel
CD1
Tracks 1-9 In Concert 1974
10-12 Top Gear session 1976
13-16 Top Gear session 1969
17 Peter Sarstedt session 1969
18 Bob Harris session 1972
CD2
Tracks 1-8 In Concert 1975
9-16 In Concert 1971
17-22 Night Ride session 1968
23 Top Gear session 1974