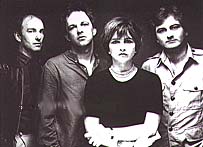 AUTO DA FE was formed in 1980 by Gay Woods and Trevor Knight. Gay was one of five founder members of folk-rock band Steeleye Span (in 1969) and she subsequently worked with long-time musical partner Terry Woods in The Woods Band.
As Auto Da Fe, Gay Woods and Trevor Knight worked solidly in Ireland with only a handful of English live dates. Among these are the two BBC radio concerts included in the Hux release. The presence of Thin Lizzy supremo Phil Lynott on one of these BBC concerts reflects his willingness in the early eighties to engage in different projects. He produced the band's first three singles.
Auto Da Fe released their one proper album ('Tatitum') in 1985 and this included all of the band's six single A-sides to date. Gay Woods then retreated to Ireland to raise her daughter.
In 1994 she received a call to rejoin Steeleye Span. She appeared on three of that band's studio albums ('Time', 'Horkstow Grange' and 'Bedlam Born').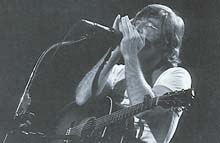 JOHN SEBASTIAN is perhaps best known for his work with the much-loved Lovin' Spoonful in the '60s, which established him as one of the finest American songwriters of his generation. When the Spoonful finally folded Sebastian started a solo career although he was asked to become the fourth member of Crosby, Stills And Nash. He declined when it was found that Stephen Stills wanted him to play drums. In 1969 his performance was one of the highlights of the Woodstock Festival, his unassuming and approachable apearance, warm rapport, and acoustic set elevated him to a star.

Sebastian's eponymous solo album debut in 1970 contained notable tracks like the autobiographical 'Red Eye Express' and the evocative 'How Have You Been,' and 'She's A Lady'.

In 1974 Sebastian was working with the late Lowell George, and a strong Little Feat influence is shown in his work at this time. The album 'Tarzana Kid' resulted from this collaboration with the high point a Sebastian/George classic, the beautiful 'Face Of Appalachia.' Two years later John was asked to write the theme song for a US comedy television series, 'Welcome Back Kotter.' The result was a number 1 hit, 'Welcome Back'.

Whilst amazingly there was a dearth of new albums in the eighties, Sebastian remained busy as a television presenter, children's writer and among other commissions he composed the music for the 'Care Bears' television series.

He declined an invitation to be part of the 1992 reformed Lovin' Spoonful. and released Tar Beach in 1993 - a varied mixture of rock, blues and country. More recently John Sebastian has returned to his earlier rootsy style, the jug band music that influenced Spoonful.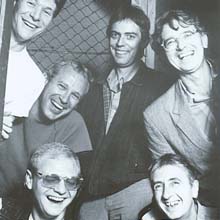 THE BLUES BAND formed in 1979 bringing together a 'heavyweight' line-up of like-minded musicians with the aim of creating the good time and gritty sound of authentic blues. Paul Jones fresh from a West End career and erstwhile lead vocalist with pop band Manfred Mann, Tom McGuiness and his long-time musical partner Hughie Flint, Gary Fletcher and Dave Kelly who had played together in Kelly's 'Wild Cats' formed an ensemble that has continued to delight audiences ever since. Original drummer Flint was eventually replaced by Rob Townsend, formerly with seventies rock band Family.

The legacy of Muddy Waters, T Bone Walker and Willie Dixon is evident in the Blues Band's repertoire and they continue to tread the boards across Europe and the UK.