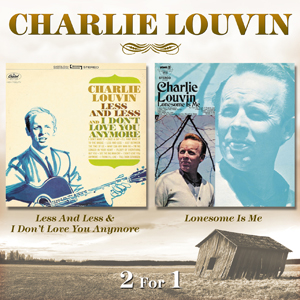 From the mid 1950s until the early 1960s, the Louvin Brothers, comprising Charlie and his brother Ira, became one of the most prestigious and influential bluegrass acts of all time. They developed a sound that was to later influence and inspire many others including (especially) the Everly Brothers and such seminal country rock performers as the Byrds and Gram Parsons. The duo separated in 1963, and both went on to pursue solo careers.

In 1964, Charlie Louvin released his first solo album. As was the fashion of the day the album was named after two chart successes, 'Less And Less' & 'I Don't Love You Anymore'. Charlie's second album, 'Lonesome Is Me', followed in 1966.

Louvin's music had now become smoother and more 'mainstream Nashville' than his erstwhile raw mountainy style, although a plaintive bluegrass undertone is never too far from the surface in his vocal delivery.

Both albums have now been digitally re-mastered and are released here on CD for the first time. The accompanying 12 page booklet includes extensive liner notes, photographs and full lyrics to all of the featured tracks.

Today, Louvin continues to be involved in recording projects, often in esteemed company which has included George Jones, Tanya Tucker, Willie Nelson, Waylon Jennings and Charlie Daniels. 2007 saw the release of his latest new album, which reprised his classic material and was recorded with rock and country stars such as Tom T Hall, Elvis Costello, Marty Stuart as well as members from alt-country ensembles such as Wilco and Lambchop.


HUX099
---