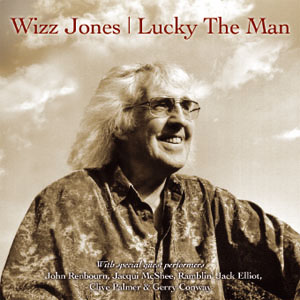 Wizz Jones is regularly cited as an early influence by the likes of Rod Stewart, Eric Clapton and Keith Richards, amongst many others. He was also a crucial mentor to 1960s folk-blues royalty like Bert Jansch, John Renbourn and Ralph McTell. More recently, he's frequently name checked as an icon by younger artists, including Thurston Moore & Stephen Malkmus.

Originally released as a very limited pressing on an independent American label in 2001, 'Lucky The Man' is still Wizz's most recent studio album. This digitally re-mastered reissue is enhanced by the addition of 5 bonus tracks, all selected by Wizz himself. The final bonus cut, 'Sugar For Sugar', is a previously unreleased duet with Wizz's hero, Ramblin' Jack Elliott.

'Lucky The Man' features a stunning array of supporting and duetting musicians, including ex Pentangle members John Renbourn and Jacqui McShee, Balham Alligator Gary Ricard and Wizz's old busking partner from the '50s and early '60s, Clive Palmer. Also featured are guitarists Martin Wheatley & Bernd Rest, and Wizz's son Simeon on sax. Plus of course, Ramblin' Jack Elliott.

Still traversing the musical landscape he helped to pioneer - folk, blues, cowboy songs, jazz and traditional English tunes - this is the sound of Wizz Jones in superb voice and guitar playing form.

The 12 page CD booklet includes extensive liner notes, personal comments from Wizz on each of the bonus tracks, plus several rare photographs from Wizz's own archive.

HUX094
---
Lucky The Man
---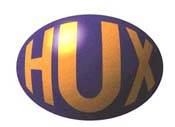 ---
Track listing:

1. Weeping Willow Blues (Blind Boy Fuller)
2. Sermonette (Nat and Julian Adderley)
3. Lucky The Man (Wizz Jones)
4. Paris (Clive Palmer arr. Wizz Jones)
5. Omie Wise (trad arr. Jones)
6. Mountain Rain (Archie Fisher)
7. In Stormy Weather (Al Ashworth Jones)
8. Another Summertime (Wizz Jones)
9. Lullaby Of Battersea (Wizz Jones)
10. Roving Cowboy (Ballad Of Dan Moody) (Mike Smith)
11. Funny But I Still Love You (Ray Charles)
12. Blues Run The Game (Jackson C Frank)
13. Would You Like To Take A Walk? (Dixon, Rose,Warren)

Bonus tracks

14. About A Spoonful (Mance Lipscomb)
15. The Dark Eyed Gypsies (trad. arr. Jones)
16. The Moving On Song (EwanMacColl)
17. Planet Without A Plan (Wizz Jones)
18. Sugar For Sugar (Richard Rabbit Brown)