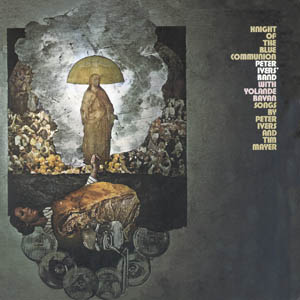 Many music fans will know Peter Ivers as the writer of 'In Heaven (Lady in the Radiator Song)', which he originally composed for David Lynch's classic film, Eraserhead. The song was later immortalised, of course, by fellow Bostonians, the Pixies.

Ivers may not be a household name, but during his short life he made an impact on many fronts. He was a musician, arranger, composer, screenwriter, catalyst, TV presenter, spotter of new talent, a black belt in karate and a yoga master. Talking to people who knew and worked with him even 24 years after his untimely death, the superlatives still come gushing forth: such epithets as 'perfect'; 'a totally unique and refreshing individual'; 'a legend in the making'; 'a genius in many fields' freely trip off the tongue about him.

Peter's first big music industry break came in 1969, when Epic Records signed him to record his debut solo LP, Knight of the Blue Communion, the first ever legitimate CD reissue of which is now released on Hux Records.

In addition to playing harmonica and providing backing vocals, Peter acted as arranger and composer, while his friend Tim Mayer provided all the lyrics. Ivers assembled a fascinating group of musicians to play on his record. On drums was Cleve Frank Pozar, with Richard Youngstein on contrabass, and Tony Ackerman on guitar. The horn section featured Steve Kowarsky on bassoon, Henry Schuman on oboe and Paul Balmuth on sax. However, the icing on the cake was chanteuse Yolande Bavan, and the way in which Peter used her as lead vocalist on the album. Bavan was a singer and actress who was born in Sri Lanka and had started her professional career working as a vocalist with renowned pianist Graeme Bell. Later, she met and was befriended by the legendary singer Billie Holiday. Holiday took the young Bavan under her wing and in addition to mentoring Yolande, developed a close friendship with her. Subsequently, Yolande found her way to America where she replaced Annie Ross in the renowned jazz vocal trio, Lambert, Hendricks and Ross.

On its original release in 1969, Knight of the Blue Communion drew comparisons with Captain Beefheart and Frank Zappa, with Yolanda appearing to be the conventional vocalist cast in what was often a sea of avant-garde madness, the music a blend of blues, rock & jazz. The LP was produced by the veteran US pop producer Sandy Linzer, who had written and produced the hit 'Let's Hang On To What We Got'.

Yolande left the band the following year and was replaced by Asha Puthli, a forward thinking, boundary breaking vocalist who'd trained in Indian classical singing and was a natural jazz improviser, whom the New York Times described as 'a sound like raga meeting Aretha Franklin'.

With Asha now on vocals, the Peter Ivers Band released their debut single in 1971, a cover of the Marvin Gaye number, 'Ain't That Peculiar', backed by the Ivers' original, 'Clarence O'Day'. Both titles, previously unavailable on CD, are included here as bonus tracks.

As Puthli recalls, the single 'received glowing reviews from all three major industry magazines, Billboard, Cashbox & Record World and briefly entered the Top 100 Singles Billboard charts'. Asha Puthli went on to sing on Ornette Coleman's Science Fiction album and won Downbeat poll award for best female jazz vocalist for her sterling contribution to that classic album.

This special 'digi-pack' format features a reproduction of the original LP sleeve. The accompanying 20 page CD booklet features extensive liner notes, including interviews with the featured singers and musicians, along with the original LP liner note by Peter Ivers, full lyrics to every track and rare photos.


HUX088
---
Cat Scratch Fever
---