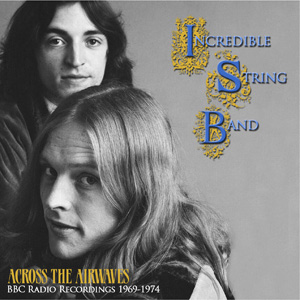 The Incredible String Band was arguably one of the most engaging groups to emerge from the esoteric 1960s. Basically the duo of Mike Heron and Robin Williamson, their sound was comprised of haunting Celtic folk melodies augmented by a variety of Middle Eastern and Asian instruments.

In the late 60s, the ISB became major players on the burgeoning underground scene, sharing bills with the likes of Pink Floyd at London's UFO club and acquiring cult status with the cognoscenti after the 1967 release of their album, '5,000 Spirits Or The Layers Of The Onion'. John Peel soon became a big fan and was quick to get them to record sessions for his BBC Radio 1 shows.

The Incredible String Band adopted an adventurous approach to their BBC radio sessions, using them to try out new, non-album material or radically rearrange older songs, encompassing a remarkable variety of instrumentation and genres.

This double CD contains 13 previously unreleased recordings and has been compiled and released with the full co-operation of the band.

The accompanying 24 page booklet includes rare photographs, comprehensive liner notes and a full BBC sessionography, plus an additional note from Mike Heron and lyrics to several of the featured songs.
"An absolutely indispensable record from the wealth of ISB session material that survives… there are some genuine masterpieces" - Record Collector (4 stars)
"The sheer stylistic range of the material hare is astonishing… marvellously detailed liner notes" All Music Guide




HUX087
---