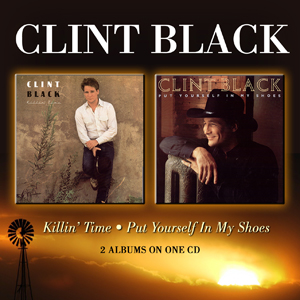 Clint Black is a Country Music traditionalist from Texas and was one of the first artists to kick-start the mass-market popularity of Country in the 1990s.

This CD pairs Clint Black's classic debut LP, Killin' Time, with its impressive follow-up, Put Yourself In My Shoes.

Originally released in 1989, Killin' Time topped the country charts for 28 weeks and produced several number one singles, including the title track, 'Nobody's Home' & 'Walkin' Away'. In the months that followed its release, Clint was showered with industry awards, including 'Best Male Vocalist', 'Best Album', 'Best Single' and 'Songwriter/Artist of the Year'.

Put Yourself In My Shoes, released in 1990, also produced several hit singles, including the title track, 'One More Payment', 'Loving Blind' & 'Where Are You Now?'

The achievement of Clint Black, and fellow artists such as Randy Travis, Alan Jackson and Dwight Yoakam, was to modernise the Country genre without losing the downhome realism and integrity that made the music great in the first place.

It's clear that the Clint Black story still has a long way to go. On this compilation you'll hear the start of that story: two albums that helped to change the face of Country music, while still ensuring that its essential spirit survived intact.

The accompanying CD booklet includes full lyrics to every track, extensive liner notes, period photographs & reproductions of the original LP sleeves.
HUX080
---

Windows Media | Audio help

Killin' Time
---