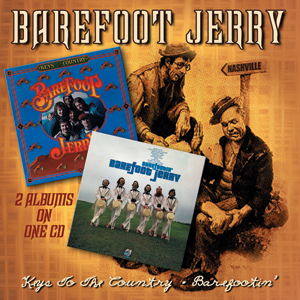 The Nashville country rock group, Barefoot Jerry, evolved out of Area Code 615, after that band had dissolved in 1970.

Barefoot Jerry released several acclaimed albums between 1971 & 1977, all of which featured an ever-changing line-up of top Nashville musicians. Guitarist Wayne Moss remained the one constant member, (having previously played with Brenda Lee's backing band in the early '60s and later featuring on Bob Dylan's Blonde on Blonde).

Moss formed Barefoot Jerry in 1971 with two other former members of Area Code 615 - vocalist/guitarist Mac Gayden and drummer Kenny Buttrey, plus keyboard player John Harris.

By the time of the 1976 LP, Keys To The Country, Wayne Moss had assembled a new line-up of the band, which now included bassist Terry Dearmore, guitarist Jim Colvard, keyboardist Warren Hartman and special guest, Charlie McCoy. The same line-up recorded the band's final album, 'Barefootin', the following year.

Those final two albums now appear together on this CD, which has been digitally reproduced from the original master tapes. The accompanying 12 page CD booklet features full lyrics to every track, plus reproductions of the sleeve artwork from both original LPs.


HUX077
---