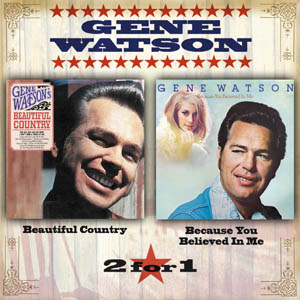 It is difficult to imagine the world of country music without the vast contribution that Gene Watson has made to it. Between his major label debut on Capitol Records in 1975 and the present day, Gene Watson has excelled with his traditional slant within country music and has enjoyed several hit singles in the Country charts.

Watson is a singer in country music's grand tradition and has the skill to give powerful vocal performances and draw all the emotion from his selected material effortlessly.

In 1976, Watson released his second LP on the Capitol label, Because You Believed In Me', the title track of which had recently been a top 20 hit single.

'Beautiful Country', released the following year, included the hit singles 'The Old Man & His Horn', 'I Don't Need A Thing At All', and 'Cowboys Don't Get Lucky All The Time', which was a hit in 1978. This latter song also appeared on the soundtrack of the Sam Peckinpah movie 'Convoy'

The two albums on this CD are drawn from the most commercially successful period of his career and capture Watson in his prime. 'Because You Believed In Me' & 'Beautiful Country' are now both released here on CD for the first time.

HUX072

---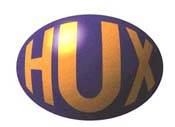 1. Because You Believed In Me 2. If I'm A Fool For Leaving 3. Bitter They Are, Harder They Fall 4. When My World Left Town 5. Sorry Willie 6. How Good A Bad Woman Feels 7. Her Body Couldn't Keep You Off My Mind 8. I Fell Apart 9. Hey Louella 10. And Then You Came Along 11. The Old Man And His Horn 12. Cowboys Don't Get Lucky All The Time 13. I Won't Be Sleeping Alone14. Hey Barnum And Bailey 15. I'd Love To Live With You Again 16. I Don't Need A Thing At All 17. Raining In Dallas 18. It Don't Hurt Me Half As Bad 19. I Knew We Could Never Love For Long 20. He Little Thinged Her Out Of My Arms
---