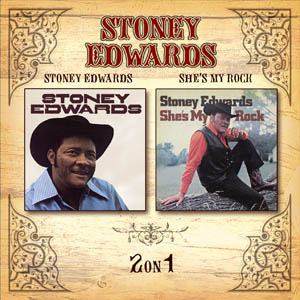 Stoney Edwards' soulful honky-tonk sound has always had a devoted following and he is rightly revered as one of the great Country artists. After his early chart success in 1971, he continued his recording career right up to 1990.

In 1971, Stoney's debut single, the heart-wrenching true life tale, 'Two Dollar Toy', became the first of fifteen chart entries for the singer. Stoney's fourth single a year later, 'She's My Rock', was his biggest ever chart success, breaching the top 20.

Both of these tracks are included on this CD, which is chock full of superb country music, including the heartfelt 'Daddy Did His Best', later cut by Porter Wagoner and Dolly Parton. Also featured here are the much recorded breezy shuffle 'I Don't Believe I'll Fall In Love Today', as well as Stoney's own material such as the whimsical 'Fishin' Song' and the tell-it-like-it-is 'You Can't Call Yourself Country'.
This CD brings together two of the finest albums by Stoney Edwards, originally released in 1971 and 1973 on the Capitol Records label. Both titles have now been digitally re-mastered and are released here on CD for the first time. The ccompanying 8 page booklet includes extensive liner notes & rare photographs.
HUX069
---