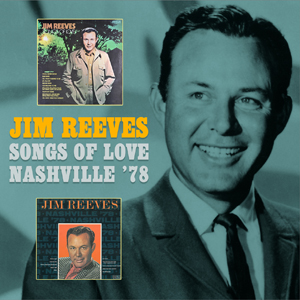 'Gentleman Jim' Reeves was perhaps the biggest star to emerge from the Nashville country music scene. His mellow baritone voice and velvet orchestration combined to create a sound that echoed around the world and has lasted to this day.
With these two albums, now reissued on CD for the first time, you get the pure essence of the magic of Gentleman Jim Reeves, with sensitive musical arrangements, inspired choice of song material and one of the finest voices to have ever graced country music and the famed Nashville studios.

Jim Reeves was a true anomaly. He grew up in Texas in the 1920s and '30s, but didn't sing western swing or Texas beer joint music. Instead, he sang smooth and sweet country music and country-flavoured pop music, thereby pioneering the Nashville Sound. 'Gentleman' Jim Reeves, the crooner with the velvet voice, transcended his country music roots and has continued to captivate fans worldwide, more than 50 years after dying in a plane crash at the peak of his career. New arrangements have been added to his recordings and now, digitally remastered, these two albums from the late 1970s are reissued here on CD for the first time.




HUX145
---