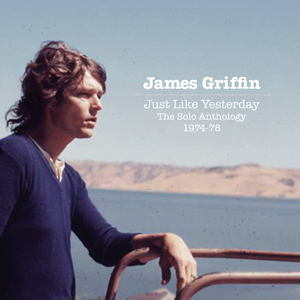 With his soulful 'Southern Rock' voice and fabulous guitar playing, James Griffin was an integral element to the original sound of Bread. Between 1969 & 1972 Bread released five albums of magical music. Although David Gates became the member most widely associated with the band's success, the recipe for Bread relied as much on the songs, vocals and guitar playing of James Griffin.

Tending to provide Bread's albums with quirkier, harder-edged songs, Griffin was nonetheless a master of exquisitely written ballads himself. His two solo LPs of the 1970s - Breakin' Up Is Easy (1974) and James Griffin (1977), the latter released only in Europe – are practically buried treasure for devotees of Bread and the Bread 'sound'. Two songs – 'She Knows' and 'That's All I Need' – include the classic Bread line-up.

This anthology marks the first release anywhere of the second album on CD, and adds two previously unreleased BBC live tracks from a 1974 recording of 'The Old Grey Whistle Test'.

Now reissued with the full approval of the James Griffin Estate and digitally re-mastered from the original studio production tapes, this anthology comes with a 12 page booklet featuring extensive liner notes, photographs and full recording details.


HUX136
---