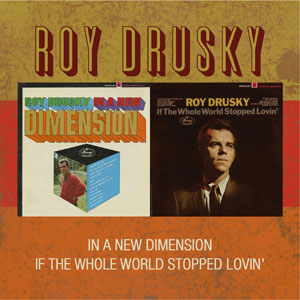 As a crooner with a smooth, mellow baritone that led to him being dubbed 'The Perry Como of Country Music', ROY DRUSKY enjoyed a lengthy recording career, releasing more than thirty albums, mainly in a smooth pop-country style. As a fantastic international ambassador for country music, he touched listeners with his smoothly executed vocals.

Roy Drusky was at his peak, vocally, in the mid-1960s when these two albums were originally recorded and released. Now digitally re-mastered, these two LPs are reissued here on CD together for the first time.

The LP, In 'A New Dimension' found him mixing country songs old and new with current pop favourites, like a dramatic rendition of the Cilla Black hit You're My World and the much-recorded Try To Remember, both of which fit him like a glove. He'd made the country top ten with The World Is Round, whilst Rainbows And Roses was also a hit.

The title track to 'If The Whole World Stopped Lovin' was of course a massive UK pop hit for Irish balladeer Val Doonican.

The accompanying 16 page booklet features full recording details, extensive liner notes and photographs plus full lyrics to every featured track.



HUX134
---