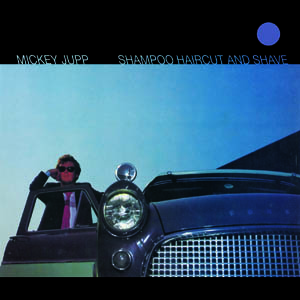 MICKEY JUPP was a champion of traditional rock & roll during the late 1970s, at a time when it had been all but discarded. Previously, his band Legend had laid the groundwork for the British Pub Rock movement. Jupp wrote the majority of his own material, which paid homage to 1950s rock n roll and he is often cited as an influence on Nick Lowe, Dave Edmunds, Dr Feelgood and many others.

Shampoo Haircut & Shave, originally issued in 1983, was Mickey Jupp's fifth solo album, appearing as the follow-up to the previous year's highly-regarded Some People Can't Dance.

Produced by Status Quo's Francis Rossi and featuring Mickey's classic band of Ian Duck (guitar), Tex Comer (bass) and Paul Atkinson (drums), this album displays Mickey's trademark Rock n Roll style.

Whilst he's been affectionately described as 'the white Chuck Berry', Mickey's refusal to be pigeon-holed or stereotyped has perhaps been one of the things that has held his 'career' in check

This album, now reissued with Mickey's approval, has been digitally remastered and is released here on CD for the first ever time ever.



HUX133
---