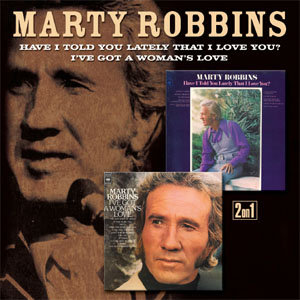 In the history of Country music, no artist has ever had a more stylistically diverse career than Marty Robbins. Robbins was never content to remain just a country singer, and performed successfully in a dazzling array of styles during more than 30 years in the business.

In 1959, he became the first country music star to be awarded a Grammy, for his classic country hit 'El Paso', and the success of this song established Robbins once and for all. In 1970, The Academy Of Country Music voted him their 'Man Of The Decade'.

During the 1970s, he had a further 30 country hit singles, made several film appearances, and starred in his own tv series, 'Marty Robbins Spotlight'. His songwriting talents saw him elected to the Nashville Songwriters' International Hall Of Fame in 1975. And then, in 1982, he was inducted into the Country Music Hall Of Fame in Nashville.

Robbins' tally of 94 Billboard chart hits places him in 8th position in the list of most charted country artists. He charted at least one song every year from 1952 until his death in 1982.

This CD features two of Marty's LPs which were originally released on Columbia Records in 1972 & 1974. They are now reissued on CD for the first time. Included here are several Robbins' originals, as well as some of his exquisite interpretations of standards.

The accompanying booklet includes extensive liner notes, rare photographs and full lyrics to every featured track.
HUX112
---