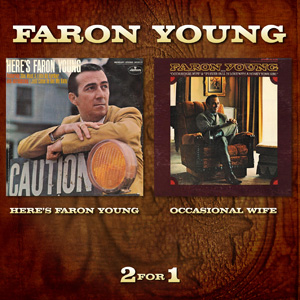 Two original Faron Young LPs, first released in 1968 & 1970, now digitally re-mastered and reissued on CD for the first time.

Faron Young had one of the longest-running and most popular careers in country music history. Emerging in the early 1950s, Young continued making great music through until the early 1990s.

This CD is comprised of two first rate albums; 'Here's Faron Young' from 1968 and 'Occasional Wife' from 1970. Both LPs showcase Faron's recordings from a time when he was at the very height of his career, where his individual trademark tremulous tenor vocals were never better.

The album 'Here's Faron Young' includes two country music hits - 'She Went A Little Bit Farther' & 'I Just Came To Get My Baby'. The 'Occasional Wife' LP also produced two hit singles - 'If I Ever Fall In Love (With A Honky Tonk Girl)' and the title track, 'Occasional Wife'.

Both albums on this disc have now been digitally re-mastered and are reissued here together on CD for the first time. The accompanying 12 page booklet includes photographs, liner notes and full lyrics to all of the featured tracks.


HUX105
---