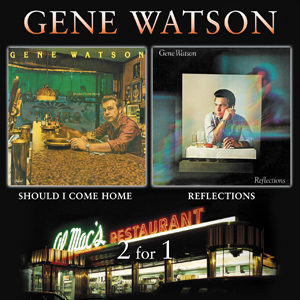 Gene Watson was once cited by George Jones - almost certainly the greatest country artist that the world has known - as his favourite country ballad singer. Whilst Grand Old Opry veteran and country superstar, the late Porter Wagoner, once described Watson as "a singer's singer".

Watson is certainly a singer in country music's grand tradition and has the skill to give powerful vocal performances and draw all the emotion from his selected material effortlessly. Though he can sing honky-tonk, he has built a reputation for soulful ballads in the classic country tradition.

Gene Watson's 'Reflections' album, from 1978 and 'Should I Come Home', from 1979, both included several country chart hits, including 'One Sided Conversation', 'Farewell Party', 'Pick The Wildwood Flower', 'Nothing Sure Looked Good On You' and 'Should I Come Home (Or Should I Go Crazy)'.

These two albums maintain the superlative standard set by Gene's earlier LPs, arguably even surpassing them in terms of material and performances.

Both albums have now been digitally re-mastered and are released here on CD for the first time. The accompanying 12 page booklet includes extensive liner notes, photographs and full lyrics to all of the featured tracks.

It is hard to think of too many major country artists that have been as consistently good while still maintaining their country roots as Gene Watson. He has been singing professionally since the late 1950s and making superb country records for nearly forty years.

Gene Watson is still active today and his current touring schedule is as heavy as it has always been. These two albums together provide a historic snapshot of some of the greatest country music ever committed to disc.

HUX101
---